Service, Billing, Questions, or Comments
Office: (386) 698-1486
(8:30am - 5:00pm Mon-Fri except Holidays)
Need to pay your Utility Bill?
Click the button below: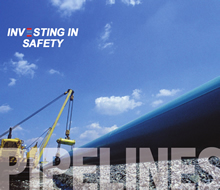 In 2011, the U.S. oil & natural gas industry spent more than $1 billion* to ensure the integrity of pipelines transporting oil, gasoline, diesel, home heating oil, and other refined petroleum products. That's a billion dollars to ensure energy gets to homes and businesses across America. Safely.