FDOT CRESCENT CITY MULTI USE TRAIL
The project consists of the construction and replacement of designated sidewalks, signs, pavement markings, sodding, and other related construction on the following streets:
Central Ave., S. Main St., Read Ave., S. Summit St., S. Prospect St., Magnolia Ave., Grand Rondo E.
The total project will create a 4.7 mile trail within the City and is funded through the Florida Department of Transportation (FDOT). Since the City is not currently FDOT Local Agency Program (LAP) certified, Putnam County has agreed to execute the LAP Agreement for purposes of funding and construction of the Project on behalf of the City.
Project Documents can be found here: http://main.putnam-fl.com/?page_id=596 under Current Active Bid #20-07 (Mainstreet Sidewalk Construction (Crescent City).
Project Information:
Financial Project Number: 430512-1-58-01
Federal Aid Project Number: D218067B
Lap Contract Number: G1782
Contractor: Elton Alon Inc.
Project Status: Construction
Original Contract Amount: $ 648,595.28
Calendar Days to Substantial Completion: 180 Calendar Days.
Calendar Days to Final Acceptance: 210 Calendar Days.
First Contract Day: Monday, April 20, 2020.
Substantial Completion Date: Saturday, October 17, 2020.
Original Final Acceptance / End Contract: Monday, November 16, 2020.
For more information, please contact the County's project coordinator, Michael Rodriguez at (386) 329-0346 x4116 or [email protected]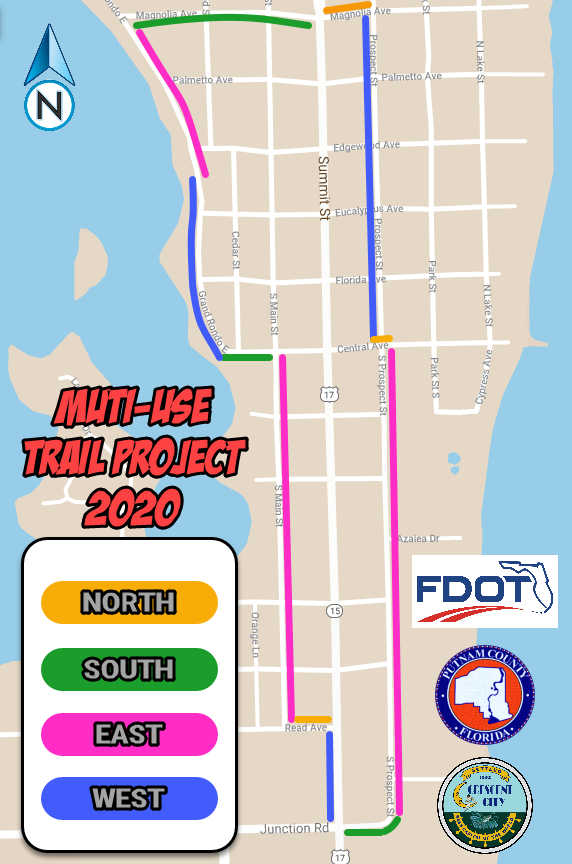 FDOT SCOP Central Avenue Improvements
The Project consists of 8,800 SY of milling 2" of existing asphalt pavement, reworking 8,800 SY of remaining asphalt pavement section into the existing base and overlay with 2" of asphalt pavement, striping improvements, and other associated improvements.
Project Information
FDOT Financial Project ID No.: 441436-1-54-01
FDOT Contract No.: G1675
Project Number: 9318-57-1
Project Status: Design
CDBG GRANT
The Project consists of work within three areas of the City.
Area #1: 2,360 SY of asphalt paving within an existing dirt roadway section with other miscellaneous activities.
Area #2: Reworking 3,600 SY of an existing asphalt roadway, correcting cross-slope, repairing sidewalk, repairing curb and gutter, and other miscellaneous improvements.
Area #3: Improvements to the City's existing Harry Banks Park pond area that includes, but is not limited to: pond improvements, clearing, guardrail additions, and landscaping improvements.
Project Information
Contract  No.: 18DB-OM-04-64-02-N25
Contract  Total: $625,276.50
Project Status: Closeout