Explorer Post 820
Fire Explorer Recruitment
Calling all explorers! Calling all explorers! If you are looking for a challenge, interested in learning new skills, enjoy teamwork, fun and excitement, and are interested in learning about a career in the fire service then we have a program just for you.
The City of Crescent City Fire Department Explorer Program is offering young adults between the ages of 15 to 21 years of age the opportunity to become part of its explorer program. Fire explorers meet at Station 03 in the city.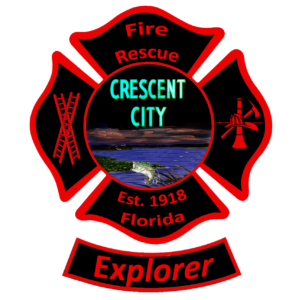 Fire explorers learn fire-fighting skills, hose lay evolutions, ladder techniques, salvage operations, wild land fire fighting procedures, proper use of fire fighting tools and equipment, breathing apparatus, basic first aid, patient vital sign assessment and other related subjects.
After explorers meet the requirements, they have the opportunity to apply skills they have learned and gain valuable experience through the fire departments Ride Along Program. During a ride along an explorer can work side by side with firefighters and respond to actual fires and emergencies on the fire departments apparatus.
Fire explorers compete in Muster competitions using old time fire-fighting techniques in friendly competition with other explorer posts and are also involved in many community service projects.