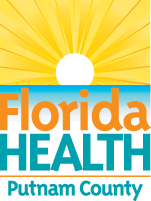 For Immediate Release:
COVID-19 VACCINATIONS
Palatka, Florida December 31, 2020 – The Florida Department of Health in Putnam County (DOH-Putnam), in cooperation with Putnam County stakeholders, has identified a plan to begin providing the COVID-19 vaccine in Putnam County. In accordance with Governor DeSantis's Executive Order # 20-315, healthcare workers with direct patient contact and those 65 years of age or older will be receiving our initial 800 doses of the vaccine.
Plans are underway and vaccinations for first responders will begin on Monday, Jan. 4. Vaccines will start next week for healthcare providers and those 65 years of age or older. In order for DOH-Putnam to determine a community need for the vaccine, they are asking those who are 65 years of age or older who have access to the internet to visit the DOH-Putnam's website at http://putnam.floridahealth.gov/. Once there, click the COVID-19 Vaccine Request tab and be prepared to answer several questions in order to pre-register for the vaccine. For those who do not have internet access, they can call the Putnam County COVID-19 Call Center at (386) 329-1904 and select option #1 and staff will take their information and enter it into the system. This line will be operational on Monday, Jan. 4 and will be open each weekday from 10:00 a.m. to 3:00 p.m.
For those who enter their information into the registration system, they will be contacted with a date and time to receive their vaccine. Remember, with our limited availability, this is a first come, first serve opportunity. After the first dosage is administered, information will be provided as to when and where to obtain the second dose.
In an effort to prepare for future vaccinations, any citizen can visit the DOH-Putnam website listed above and begin the registration process. Furthermore, the Putnam County Emergency Operations Center will be using the Putnam Alert.com system (caller ID # will reflect 88911) to send text messages to County residents with information about the vaccination effort and a link for registration, consent/screening and vaccine information forms. If citizens are concerned they may have received a form of spam, they can call (386) 329-1904 (option #1) and speak with a call taker.
At this time, no other age groups or occupations are being included in the vaccination effort. However, anyone can visit the website listed above and complete a form. If there are any questions about this process, please contact the DOH-Putnam at (386) 329-1904 (option #1).
###